Highly expected, the Bénéteau First Yacht 53 begins the renewal of the large "Performance Sailing" units' range of the French shipyard, by adopting a strong Italian style. Transalpine shipyards are clearly in the line of fire ...
Signed by the Italian naval architect Biscontini Yacht Design and designer Lorenzo Argento, the Bénéteau First Yacht 53 combines both classic and modern lines, marked by a straight slender bow providing plenty of forward space, and a 5-metre maximum beam further aft.
The cockpit seems to have been studied to ensure nothing can obstruct forward movement: manoeuvring close-hauled from the twin helm stations with easy access to the side decks, space given over completely to relaxation near the companionway.
With a flush deck, low coachroof and a sleek modern look, she has all the virtues of a thoroughbred. The First Yacht 53 aims to mark a new era with a top quality mast and high-end deck gear and a powerful sail plan that is easily controlled by a shorthanded crew.
Bénéteau First Yacht 53: molded wood is back!
This noble material with polished finishes contrasts with a modern almost minimalist décor of lacquered white bulkheads with a teak sole.
First photos show a lot of fiddles and hand rails, as well as plenty of storage indoors, where three double cabins and two heads make up the accommodation.
The major innovation in the interior seems to be the separated lounge-cum-relaxation area, with a sofa and coffee table, and the galley space with a dinner table. The result is bright and seems to communicate well with the exterior by an easy companionway.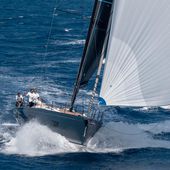 Scoop - premières photos du nouveau Bénéteau First Yacht 53 - ActuNautique.com
Très attendu, le Bénéteau First Yacht 53 entame le renouvellement des grosses unités de la gamme de voiliers "performance" du chantier français, en adoptant un style très italien. Les chantie...
http://www.actunautique.com/2019/09/scoop-premieres-photos-du-nouveau-beneteau-first-yacht-53.html