Doug Zurn has defined a new style of big, fun powerboat, that has links to the past but runs... like tomorrow!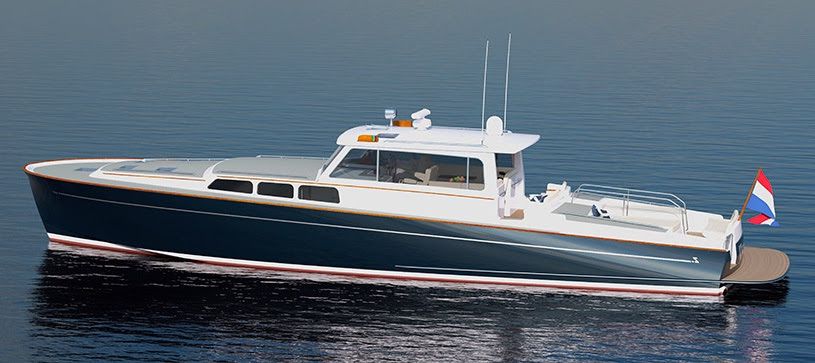 This fast, distinctive boat developed for the Dutch shipyard, Lynx Yachts has nothing to compete with it in terms of looks.
Entering any marina or blasting at full tilt from waterfront estates to Gotham, the Lynx Commuter throws "boring" into the back seat. The original custom-built version, built of aluminum, was designed as a versatile tender to a much larger yacht. But your version may perfectly serve a function once familiar, as a quick and traffic-free means to commute to work or pleasure.

Many aspects of the hull design are quintessential Zurn. She's a hard-chined, crisp and functional sculpture, with such a purposeful look to the superstructure as to appear almost military.
Of course the boldest element – although latently practical – is the aggressive reverse sheer. Besides insuring second, and even third, looks, this distribution of volume insures a commodious bow inside, with features soon described, but it enhances seaworthiness and dryness too. The lowered aft cockpit eases entry and egress, and subtly encourages more sybaritic pleasures like sunbathing, swimming, or just relaxing with a drink from the bar, to the tune of wavelets lapping the counter.
Like many a Zurn design, this beauty is blazing fast. You know when there are twin twelve inch exhausts that there is serious, throaty power. Twin Caterpillar C32-Acert 1900hp diesels reside beneath the sun lounges well aft. At high speed, these heavily sound and vibration insulated boxes leave a good deal of the noise behind. And mechanics will appreciate big open-air access around the power plants.

The original boat was carefully laid out to accommodate two in crew. Their efforts in docking and offshore piloting will be appreciated, but as easily that forward cabin might be earmarked for chef, bar tender, host, hostess, or another couple who guarantee excellent company. Their cabin is isolated from the main entertainment salon by the unusually commodious galley.
The comfy "living room" styled main cabin has a huge ensuite head with private shower compartment. The furniture quickly and easily converts to a double bed, and so for practical purposes it's entirely possible for two couples to cruise, their cabins very private from each other. On the other hand, Doug Zurn anticipated this yacht will host many a party, and so he calculated things like widened passages, airy drop-windows, clear Lexan stern doors, and many other little wizardries from the architectural world, so as to host a gang of eighteen guests!

At present it is anticipated that Lynx Yachts has planned to build all Lynx Commuters in brutally strong aluminum metal. The design has a look that complements its construction, and the interesting shape doesn't require varnished wood adornment, in fact too much of that would be gilding an already super stylish lily. Coated head to toe in Awlgrip, which was designed from day one specifically to adorn aluminum, this boat will be just as durable as it is dutiful.