The Group shows six models, including the new spectacular Riva 50 meters, the majestic 79 meters of CRN and the latest jewel in the planing line Custom Line 106'.
Among the many projects presented for the first time, the highly anticipated 165 Wallypower of Espen Øino and the elegant Riva 130 flybridge.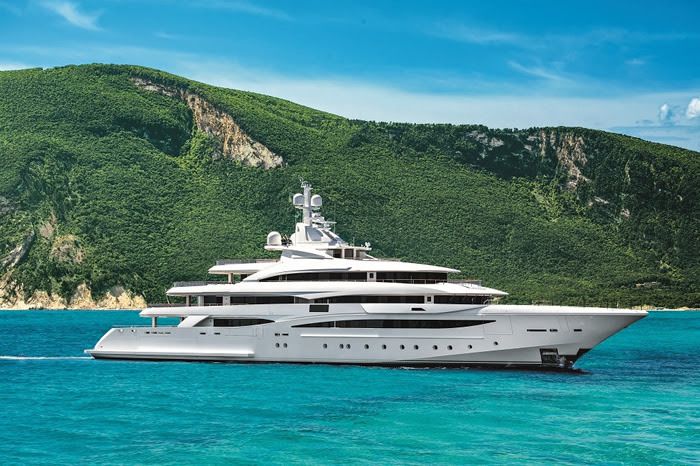 It is called "Race" and it is 50 metres long with a maximum beam of 9 metres. It is the first masterpiece of the Riva Superyachts Division and, after its world debut with an exclusive event at the historic Venice Arsenal, it will be the star of the Ferretti Group fleet at the 29th edition of the Monaco Yacht Show (from September 25th to September 28th).
Riva 50 meters, the worthy contemporary heir of the famous M/Y series "Caravelle" and "Atlantic", the large steel yachts built between the '60s and '70s by the visionary and ambitious genius of Carlo Riva. The latest Extraordinary Riva perfectly combines the aesthetics of Made in Italy with the unmistakable personality of the brand. Comfort, style, attention to details, combined with the most advanced technological solutions, give an unparalleled sailing experience.
The fleet is completed by five yachts of incomparable beauty: CRN M/Y 135 79 meters, at its official debut on this occasion, the 106' and Navetta 42 for the brand Custom Line, Riva 110' Dolcevita and 48 Wallytender.
During the press conference that took place throughout the opening morning of the Show, Alberto Galassi, CEO of the Group, spoke, together with the Sales Director Stefano de Vivo, about the investments in the super and mega yachts sector, about the new projects related to the next flagships and about the yachts Riva, Pershing, CRN and Wally currently under planning and construction.
"Following the wave of success of Cannes, gliding towards Montecarlo is a great pleasure. A pleasure that becomes immense when you can announce unique projects such as the 165 Wallypower, result of the wonderful minds of Espen Øino and Luca Bassani, a news that excites all enthusiasts of innovative and disruptive boating. Also, thanks to these injections of creativity, Ferretti Group is growing with splendid continuity, in terms of size and prestige, in harmony with our boats, which are getting bigger and bigger and more and more beautiful", said Alberto Galassi, Ferretti Group CEO. "The large yacht segment is one of those that is giving us the most satisfaction, with amazing project as the Riva 130' by Officina Italiana Design, Custom Line 140 designed by Paszkowski and Navetta 48 in collaboration with Salvetti for the exterior design and Citterio-Viel for the interiors".