Light sport sailboat, fast torpedo boat, motor yacht, classic yawl... discover the boats of JFK, the President Skipper.
Victura, a classic little sloop
The young JFK, born in 1917 to a wealthy family whose father, Joe, made his fortune during Prohibition, attended the best Ivy League and British universities where he developed his passion for regatta racing and sailing. For his 15th birthday, the lucky young man received a beautiful 25' Wianno Senior, Victura, which he will always use. These classic, jib sailboats were designed for regattas in the Nantucket Strait, the waters closest to the Kennedys' family summer home in Hyannis Port.
Lieutenant Kennedy's PT 109 Torpedo Boat
Enlisted as a volunteer in the US Navy after Pearl Harbor, Lieutenant Kennedy commanded a PT 103 class fast torpedo boat, the PT 109. These interception ships, 24 m long and weighing 57 tons (including armour and armament), carry three 1500 HP Packard V12 petrol engines, i.e. 4500 HP, for a top speed of 41 knots. They are armed with 4 torpedo tubes, 2 cannons and 4 heavy machine guns.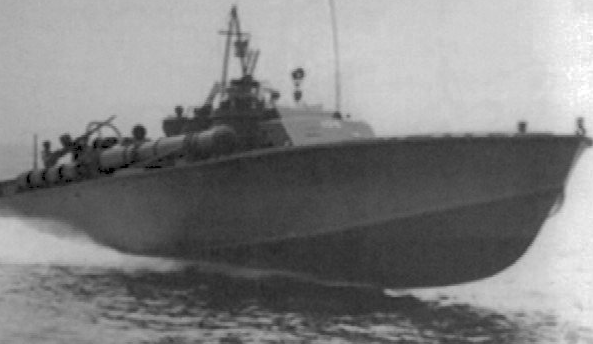 On August 1, 1943, a flotilla of 15 US Navy fast torpedo boats headed for the Japanese "Tokyo Express" convoy, in order to destroy it in the middle of Blackett Strait near Kolombaranga Island (Solomon Islands).
blackett picture
On a moonless night, the PT 109 was rammed then cut in two by the Japanese destroyer Amagiri (120 m).
For 6 days, the weakened JFK men swam every day, hauling the wounded on rafts from island to island to get closer to the American troops.

Having been able to report their position engraved on a coconut and delivered to the authorities by a native, the survivors found themselves on the deck of a fast torpedo boat on August 7, on their way to their base. The coconut, passed on to posterity, will come back to JFK and serve as a paperweight on his desk in the Oval Office!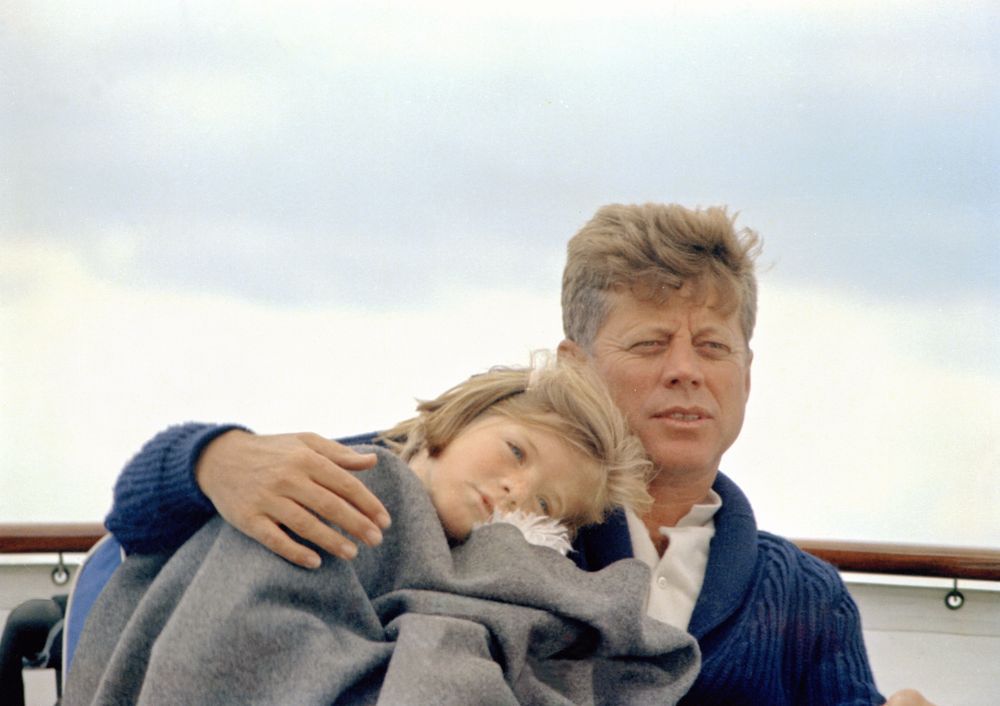 The Honey Fitz (ex. Barbara Ann and ex. Lenore), a former tender that became a presidential motor yacht!
Once in the Oval Office, Kennedy found a 92' motor yacht, the Lenore 2 (ex. Lenore and ex. Barbara Ann, who was particularly fond of her predecessor, General Dwight Eisenhower, the architect of the Normandy landings of 1944.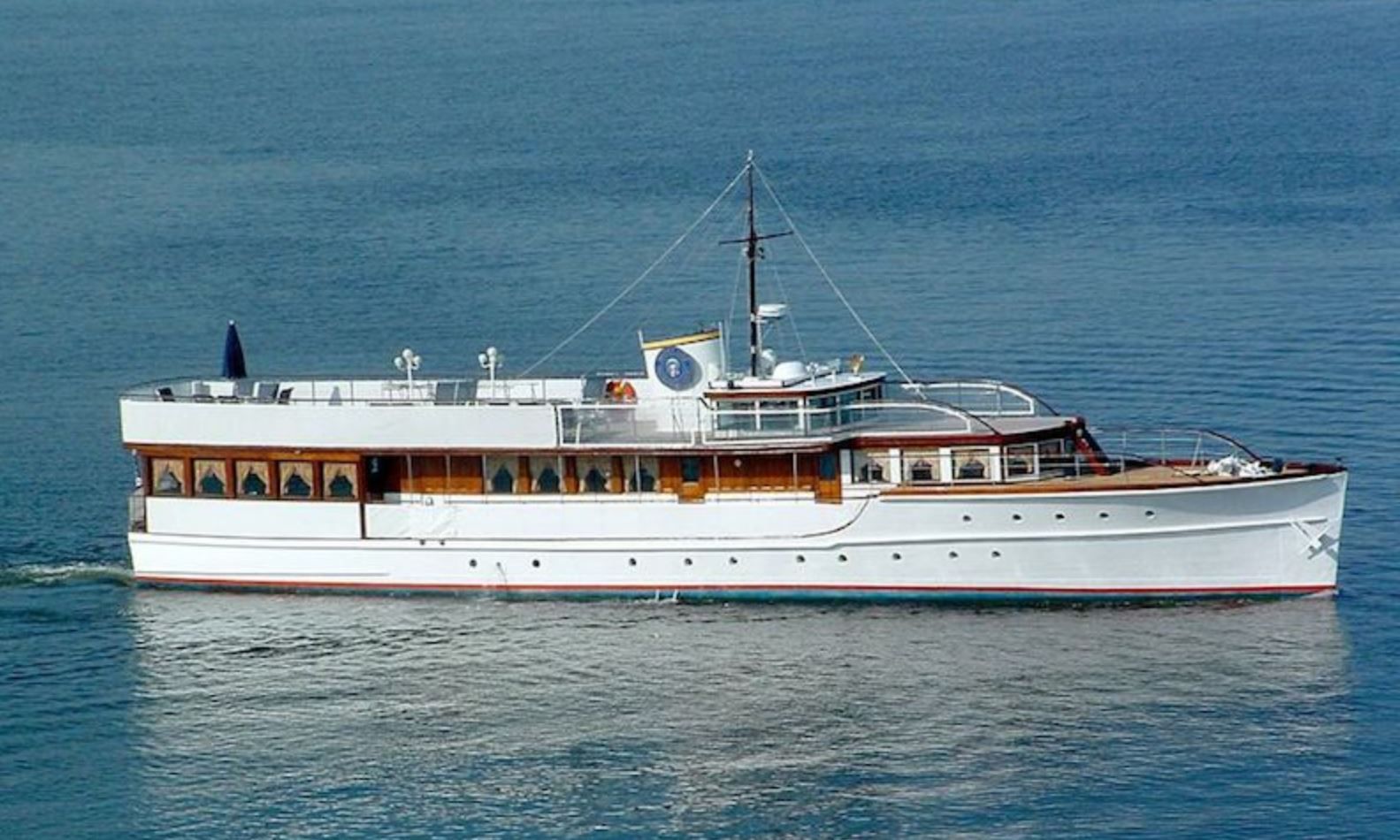 The latter, an enemy of ostentatious luxury, had decommissioned the 245' Presidential Yacht Williamsburg, which he considered too "bling bling" in 1945, and of which the Barbara Ann was the tender! Refitted by Ike, the Barbara Ann became Lenore then Lenore 2, a Commuter boat intended to transport its owner from his residence to his office...
Kennedy also refitted it, renaming it Honey Fitz on occasion, and used it extensively on the Potomac River, near Washington, but also in Newport or Palm Beach. He used this yacht with his family, often one-on-one with his children.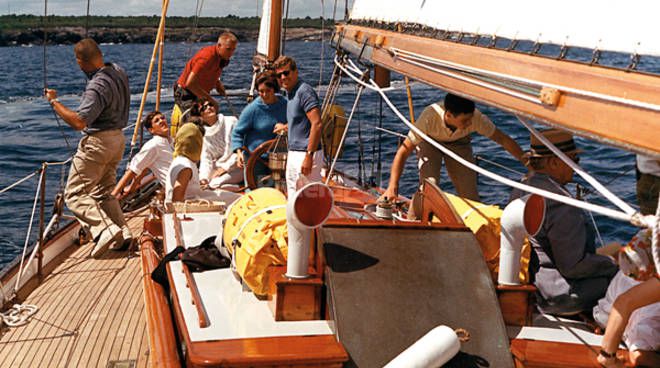 Manitou, the Floating White House
Although a frequent user of the Honey Fitz, the President missed the sail. Victura, on which he often still sailed with his family, was proving too small to accommodate the members of his firm in the relaxed management style he loved.
So he had a large, sporty and elegant sailboat searched for among the fleets of federal departments and agencies.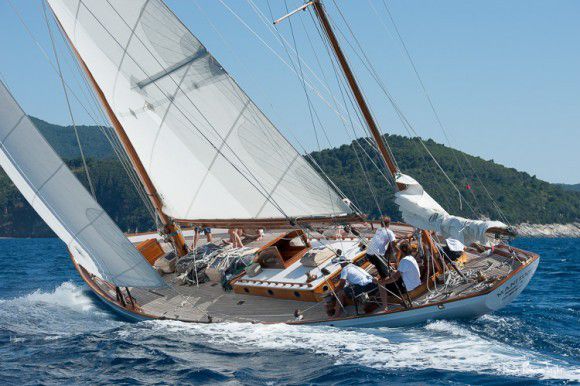 Built in 1937 in Maryland by Davies & Sons and designed by Olie Sparkman (The Sparkman by Sparkman & Stephens, yacht architect but also the Swan by the Finnish Nautor), Manitou is a pure regatta sailor of the great lakes. At the time of its launch, its sponsor had offered itself the fastest yacht of the moment.
Rigged in Bermudian yawl (or yawl Marconi or in French côtre à tapecul), heavily canvassed, long and low on the water, sparkling with varnish and bronzes, Manitou, (which means "Spirit of the Water", the deity of all deities, in Algonquin Indian) is a magnificent classic.
Its 167m2 of upwind sail area for 62' and 27 tonnes (4 tonnes of ballast) gives it a very good speed thanks to an upwind sail area/displacement ratio of nearly 19!
Once spotted by JFK's office, the yacht left for a rather special type of yard during which unusual equipment was added to the existing chimney:
A bathtub in the aft cabin and a hot water system.
An encrypted long-range radio, even allowing communications with Moscow, as the Cold War requires.
A cover for an automatic pistol and its ammunition (later replaced by a rocket launcher).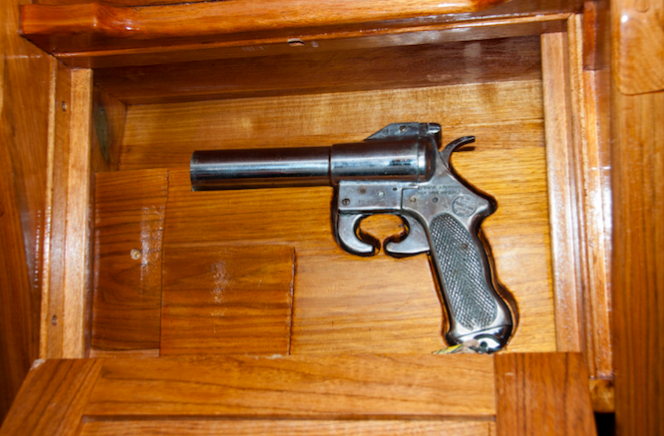 At the end of this shipyard, JFK had an elegant, comfortable and fast sailboat, an almost mobile office that was soon to be nicknamed "The Floating White House"...
On board, Kennedy received the members of his limited cabinet as well as members of his family and, for much more intimate visits, those of Miss Marylin Monroe, for example.
Decommissioned, then rearmed 15 years after the assassination of the president, Manitou served as a training ship to train socially disadvantaged American teenagers, very much in the vein of Father Michel Jaouen's Bel Espoir in France.
Returning to the hands of regatta sailors, last year he was still racing on the classic regatta circuit, participating in the Saint-Tropez and Antibes regattas.