The catamaran Bali 4.1 will be officially unveiled at the next La Grande Motte Multihull Boat Show. The Bali 4.1 is revolutionary and innovates once again to be the very best sailing catamaran, totally bridged from its bows to its rear tables, and offering a useful space never before reached on a 40-foot multihull!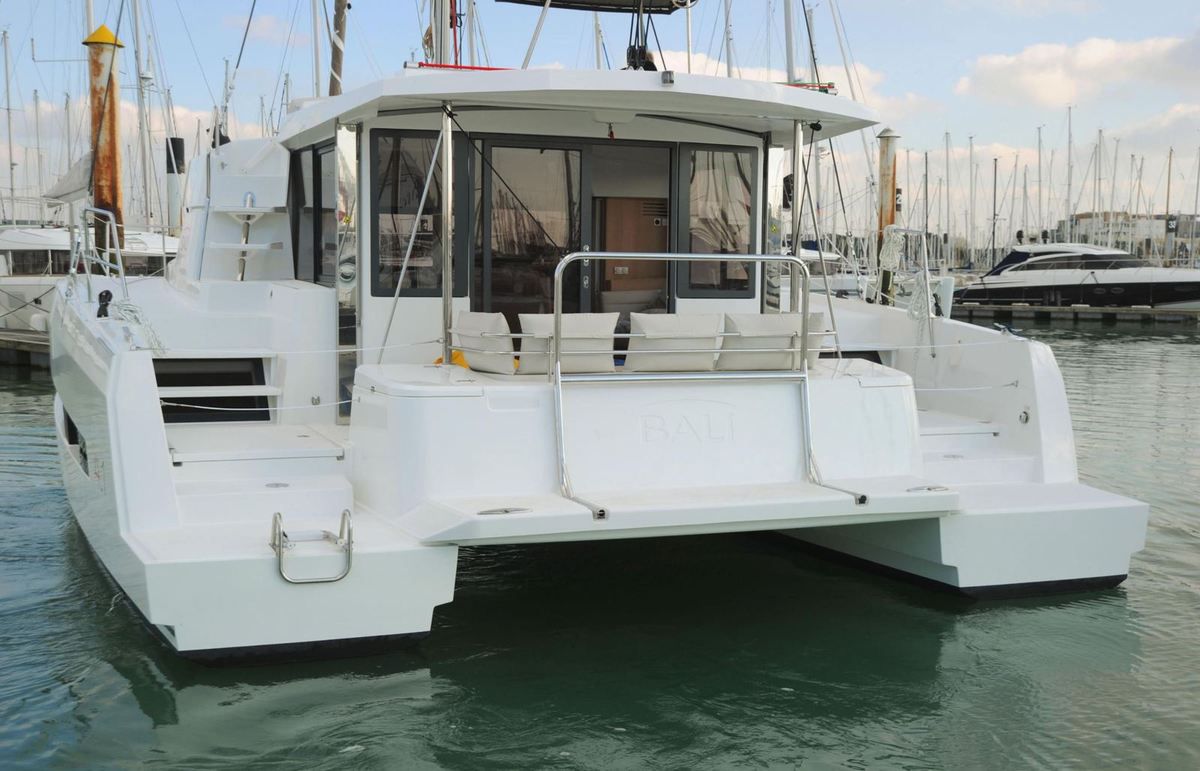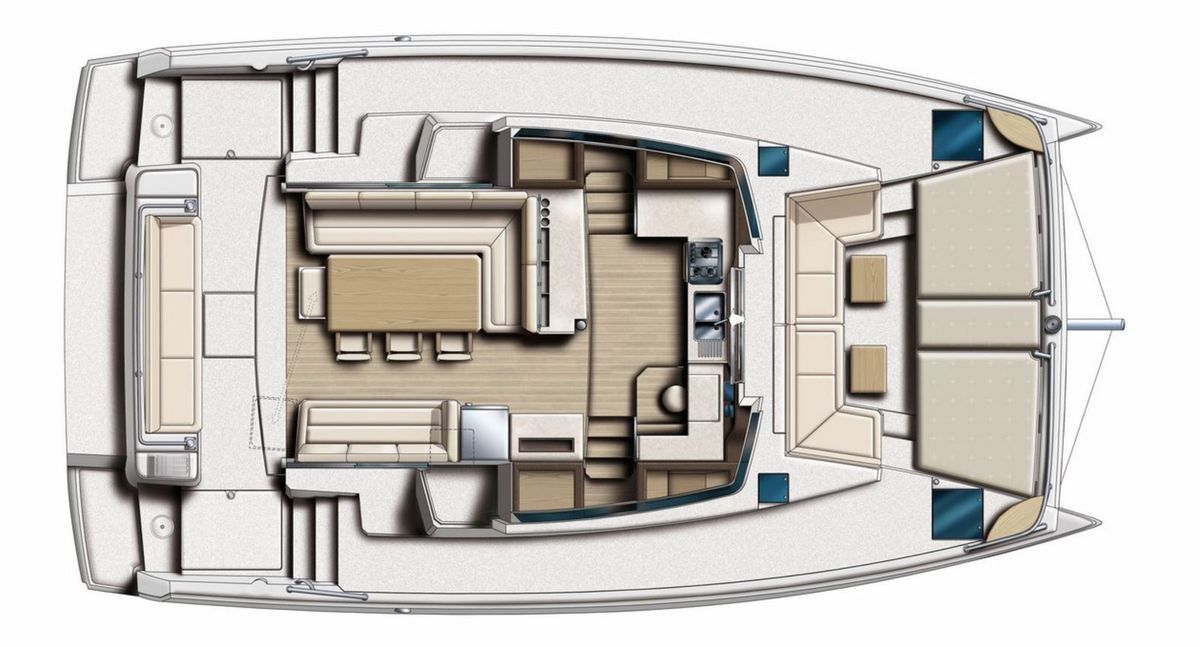 It is in La Rochelle that we discovered the first Bali 4.1, built in Marans, which had just been launched. This model, which comes in addition to the Bali 4.0 of which it is an evolution and adopts a modified rear part, consisting of a new integral platform, connecting the two floats.
This platform makes the Bali 4.1 the first sailing catamaran decked from its bows to its back tables.
The Bali 4.1 offers a very original onboard trip plan, walkaround type (!!) that makes it possible to go around the boat without constraints.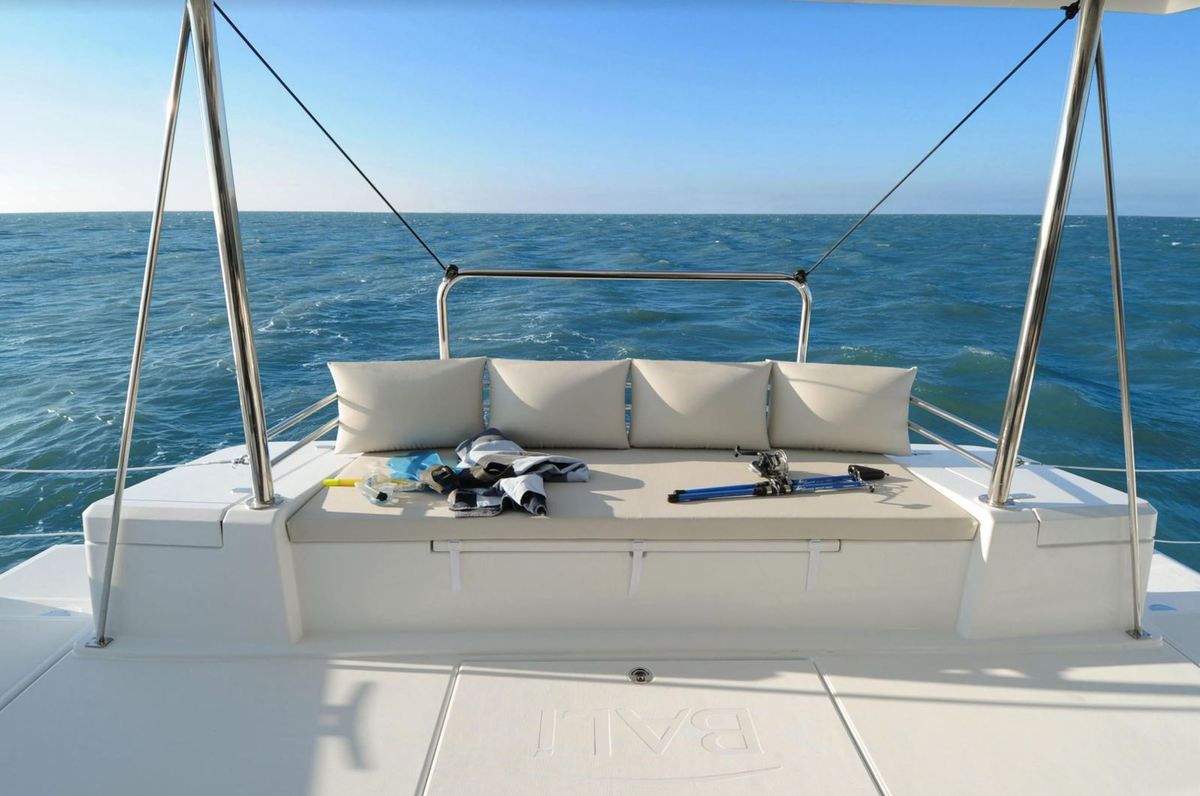 The new rear platform integrates a new rear seat that did not exist in the Bali 4.0, framed by two large chests that can accommodate a diving board or diving equipment. In addition to the additional seat that it offers for anchoring or navigation, this bench is very reassuring and secure for the Bali 4.1 passengers.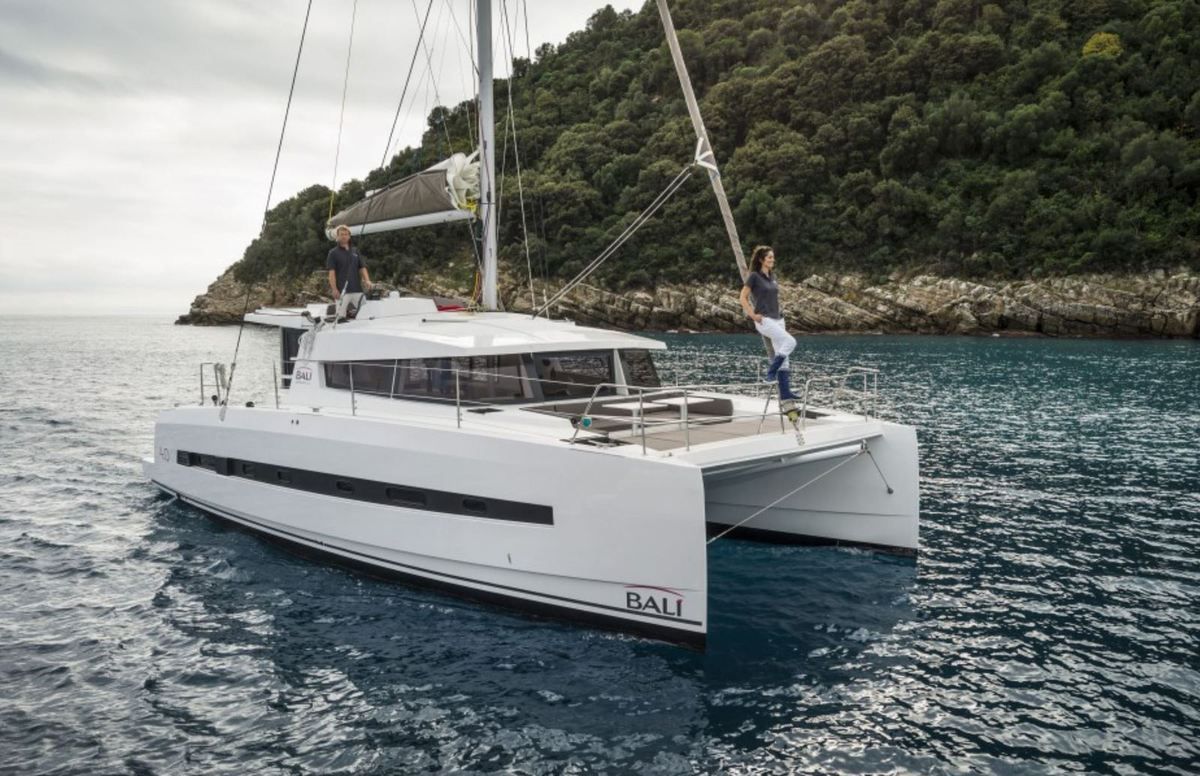 Seen from the front three-quarter, the Bali 4.1 is virtually no change from the 4.0. It inherited the sports design, the helm station on the flybridge and the front cockpit. These are all strong elements of the brand's DNA that prides itself on offering catamarans with living quarters, offering a unique on-board space on the market, whether it's sailing or at anchor.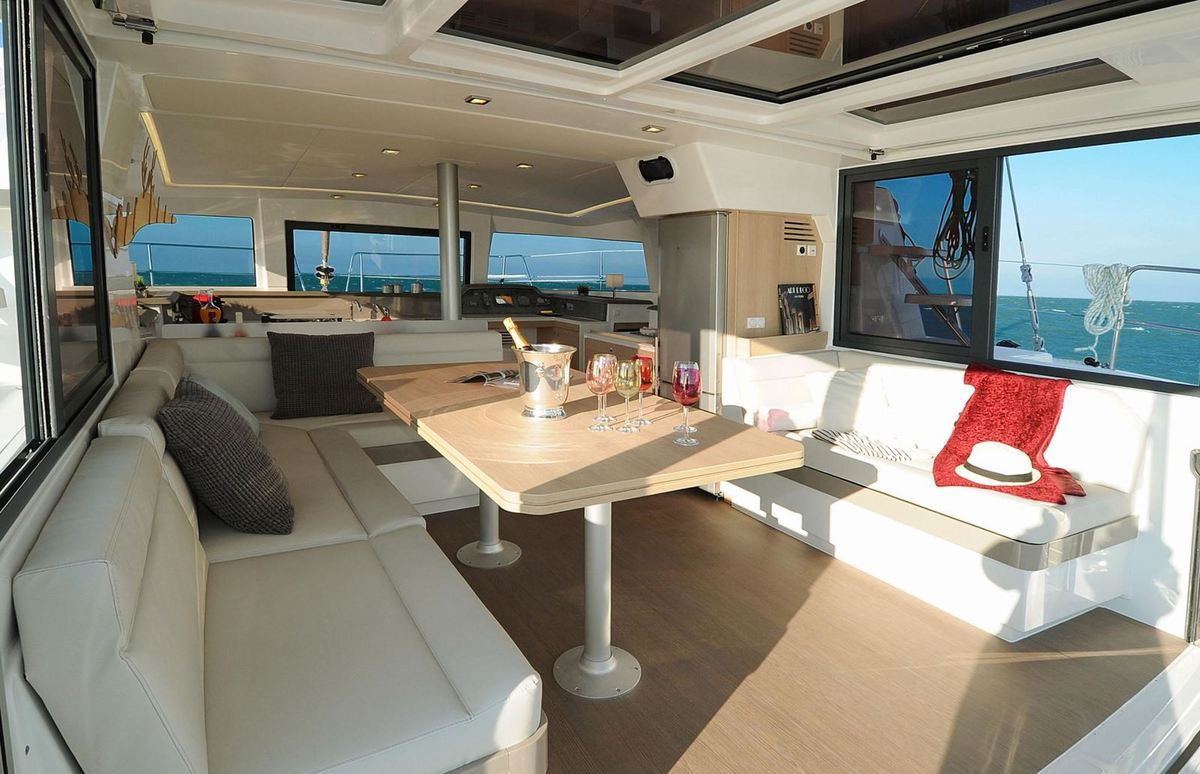 The BALI 4.1 has an L-shaped square and a new interior design
Its entirely open-plan, is composed of a very comfortable L-shaped square facing a stretchable meridian. The kitchen corner creates an unparalleled storage space and worktop surface.
The interior design, by Lasta Design Studio, favors brightness, ergonomics, fluid shapes, and noble materials.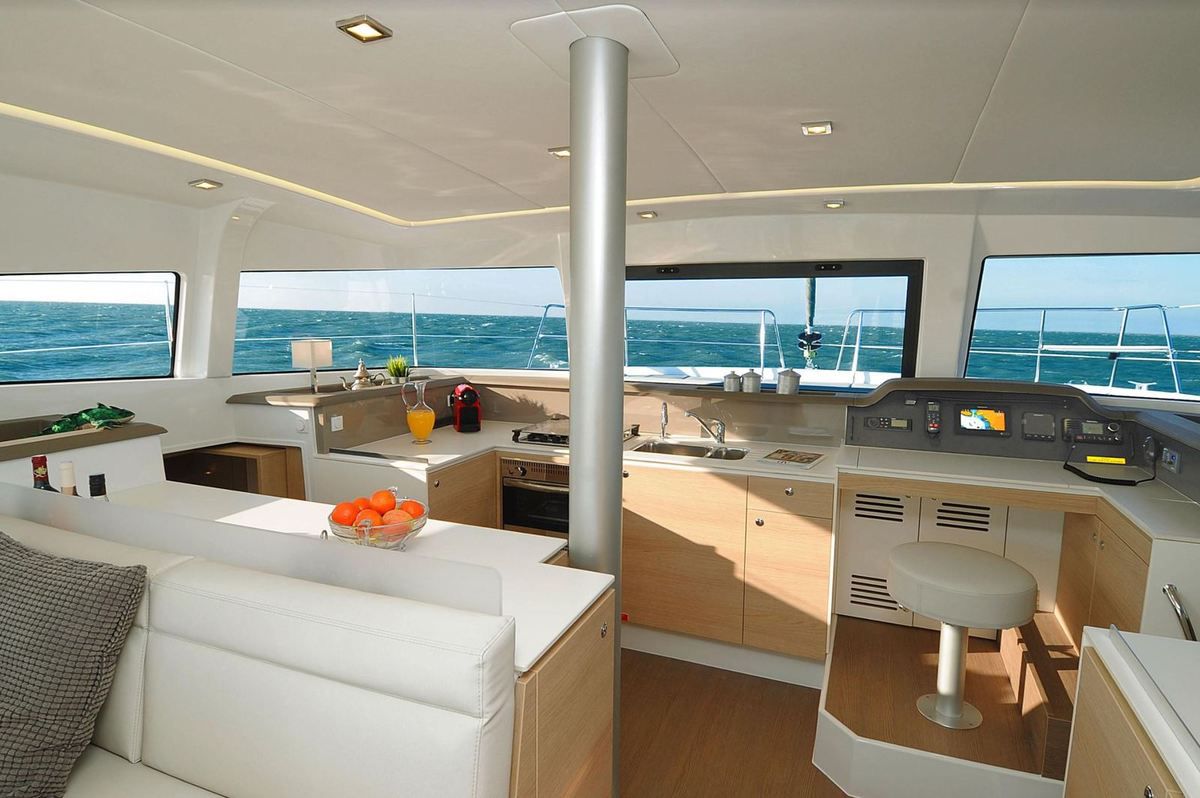 The new premium finish of the Bali 4.1 is recognizable by the choice of materials, attention to color combinations, indirect lighting, details of all kinds such as cushions, thickness of worktops...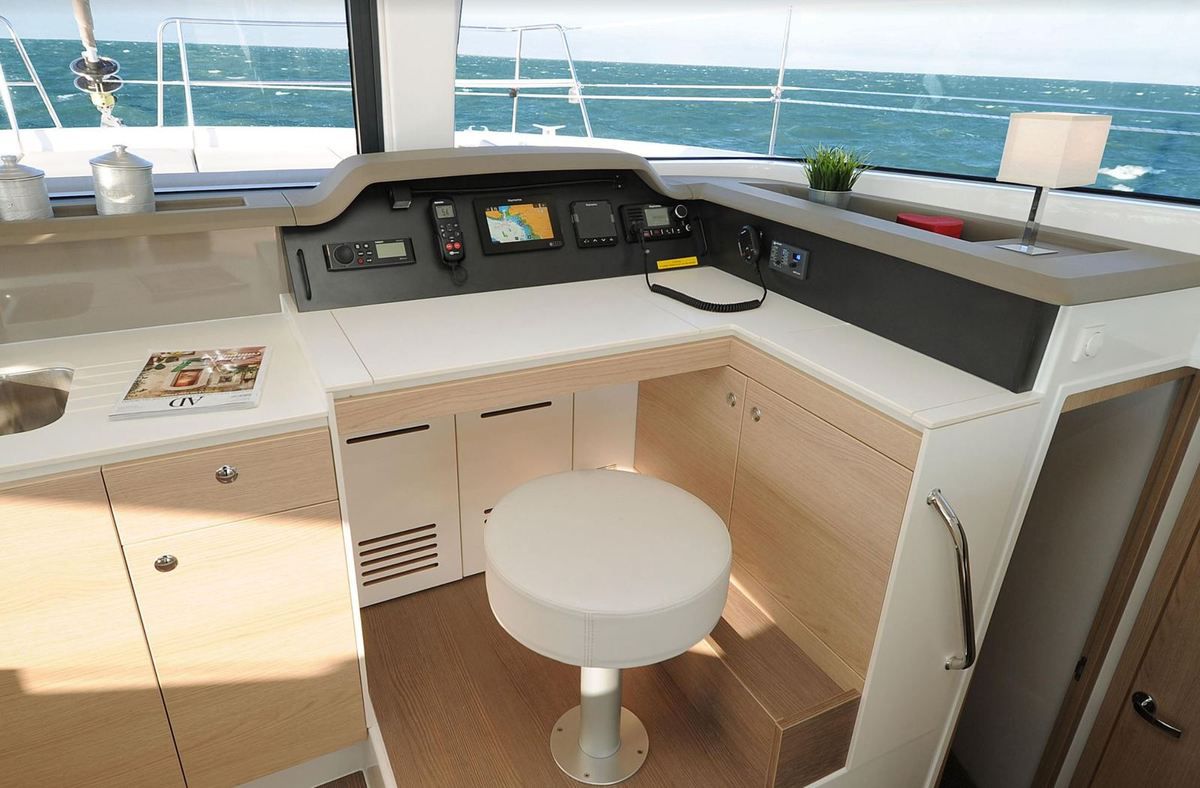 Among the details that make the difference are the foam consoles toppers, like what is found in the automobile, which allow to obtain rounded shapes of the most beautiful effect along with being very pleasant to the touch, and shockproof.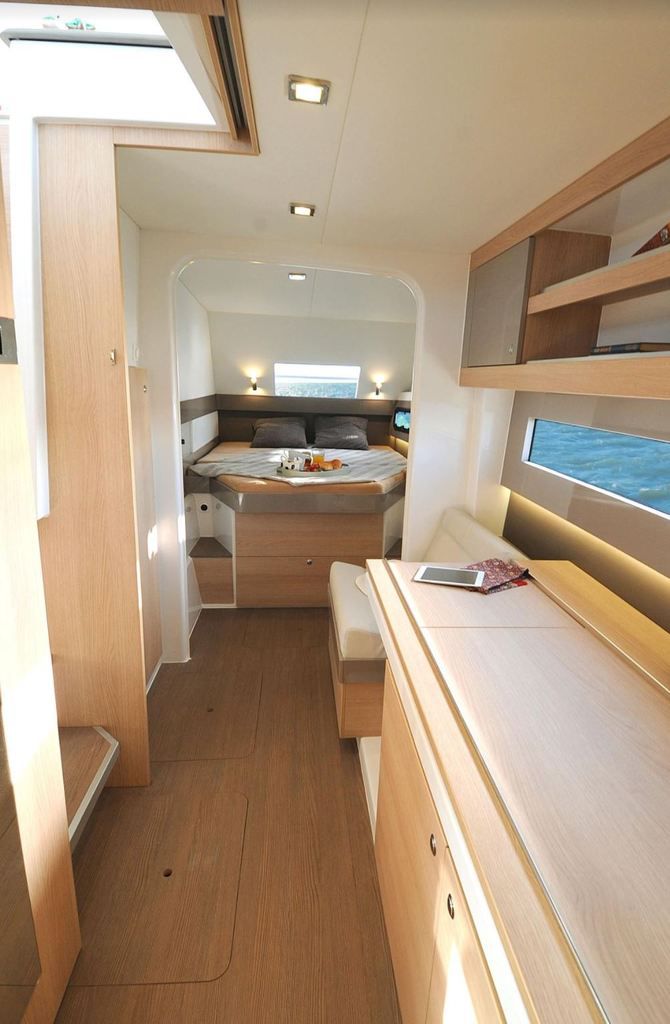 First model of the Bali range with the 4.0, the Bali 4.1 is available in several configurations, ranging from 3 cabins/2 or 3 bathrooms, 4 cabins 4 bathrooms. Whatever it needs to satisfy both owners and renters!
TECHNICAL SHEETS OF THE BALI .1
Conception O. PONCIN & Y. CHABAUD
Naval Architect Xavier FAŸ
Interior Design LASTA Design Studio
Overall length 12.35 m
Width 6.72 m
Flotation length 11.60 m
Draft 1,12 m
Light displacement approximately 9 t
Maximum load displacement around 11.8 t
Sail area 105.5 m²
GV area 48 m²
Code 0 56 m²
Solent self-drive 33 m²
Fresh water 800 l
Fuel 400 l
Motorization 2 X 20 CV / 40 HP
EC Cat A 10 Persons - Made in France