With the Flyer 9, the Bénéteau shipyard in Vendée completes the renewal of its range of open type yachts, which began with the Bénéteau Flyer 8. Like the rest of the range, the Flyer 9, which replaces the Flyer 8.8, comes in two deck layouts, SunDeck and SpaceDeck. This is the first version that we offer you to discover today in photos...
Like the other models in the range, the Bénéteau Flyer 9 is designed to be a pleasure boat. To this end, this model is equipped with an Airstep 2 hull, which combines a thin keel on the bow, to allow the boat to pass over the sea, and a wider, tulip-shaped deadweight in the bow area, to perfectly deflect the water. The rear of the hull, which benefits from the air cushion generated by the Airstep, is fitted with two port and starboard skids on the aft third, to give the boat a good seating position when sailing, especially when turning. This choice of naval architecture offers great versatility of use, between pleasure at the helm, safety and comfort.
The SunDeck version of the Bénéteau Flyer 9 consists of a deck front model with a beautiful cabin. The aft cockpit, whose width has been increased compared to the Flyer 8.8, is fitted with a bulwark that tilts to port, providing a real terrace overlooking the sea. A real must on this type of boat, which offers a functionality that is literally plebiscite on board. The Bénéteau Flyer 9 therefore has 3 points of access to the sea, with the two bathing platforms framing the two outboard motors. Note the good ciculation between these two platforms, with a passage located in front of the engines.
With the Flyer 9, Bénéteau is taking up innovations discovered on its big brother, the Flyer 10, in terms of on-board traffic plans. Access to the large sundeck is made easier, even while sailing, by the integration of a hollowed-out port side gangway, with a bulwark and stainless steel balcony ideally positioned. This choice of layout is really ingenious and allows you to enjoy a sunbathing area that is generally inaccessible while sailing on this type of boat, unless you have your heart set on it! The central console, offset to starboard, houses a well thought-out exterior galley, access to the cabin and the helm station, whose good ergonomics are worth emphasizing. Two people, including the pilot, can sit side by side during navigation.
The cockpit has a bench seat with a table, which can be transformed into a huge sunbathing area, with a slender table and a backrest at the stern. The access to the bathing platforms is through a well secured gate on the port side.
A versatile boat, the Bénéteau Flyer 9 Sundeck offers a very broad sailing program, from day trips for family outings, water skiing or buoys, or even fishing trips, to beautiful coastal or even deep-sea cruises (Corsica).
This versatility is made possible by a welcoming forward cabin, offering a lounge area that can be converted into a double berth, an interior kitchen, a central cabin with a double bed. The bathroom with separate WC-shower is unanimously acclaimed for its practicality!
Technical data sheet Bénéteau Flyer 9 SunDeck
- Overall length*: 9.10 m 29'10''
- Hull length: 7.97 m 26'2''
- Overall width: 2.99 m 9'10
- Hull width: 2.97 m 9'9'' wide
- Draft (min/max): 0.50 - 0.90 m 1'5'' - 2'11''.
- Air draught :
- without T-Top: 2,12 m 6'11''
- with T-Top: 2.68 m 8'10''
- EC light displacement: 3,350 kg 7,383 lbs
- Displacement when empty: 2,500 kg 5,510 lbs
- Fuel Tanks :
- standard : 2 x 200 L 2 x 53 US Gal
- Option: 2 x 288 L 2 x 76 US Gal
- Water tank : 100 L 26 US Gal
- Max. engine approval: 500 HP 500 HP (2x250hp)
- Motor shaft length :
- Single motor XXL / 762 mm 30'' 30".
- Bi-engine XL / 635 mm 25" twin engine
ARCHITECTS / DESIGNERS
- Development : Bénéteau POWERBOATS
- Designers : Style & Design
EC CERTIFICATION
- Category B - 6 persons
- Category C - 10 people
AIR STEP® SYSTEM
- R.L. JEANTET
- P. TABLE
- M. TRONQUEZ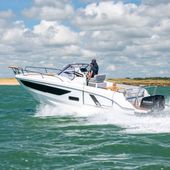 Scoop - premières photos du nouveau Bénéteau Flyer 9 SunDeck - ActuNautique.com
Avec le Flyer 9, le chantier vendéen Bénéteau boucle le renouvellement de sa gamme de bateaux hors-hors de type open, débutée avec le Bénéteau Flyer 8. A l'instar du reste de la gamme, le Fl...
http://www.actunautique.com/2020/10/scoop-premieres-photos-du-nouveau-beneteau-flyer-9-sundeck.html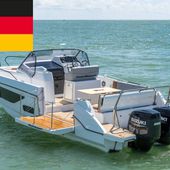 Scoop - erste Bilder des neuen Bénéteau Flyer 9 SunDeck - Yachting Art Magazine
Mit der Flyer 9 schließt die Bénéteau-Werft in der Vendée die mit der Bénéteau Flyer 8 begonnene Erneuerung ihrer Palette von Yachten offener Bauart ab. Wie der Rest der Palette ist auch der ...
http://www.yachtingart.com/2020/10/scoop-erste-bilder-des-neuen-beneteau-flyer-9-sundeck.html