Il cantiere Prestige Yachts, leader mondiale nel mercato degli yacht flybridge, da 40 a 60 piedi, lancia quest'anno ben 4 nuovi modelli, distribuiti su tutta la gamma del cantiere. Mai visti prima, a conferma del grande dinamismo del marchio francese.
Il programma Prestige Yachts per la stagione 2020 comprende il Prestige X70, motoryacht che inaugura una rivoluzione architettonica nel mercato dei 70 piedi, il Prestige 690 e il Prestige 690S, che rinnovano uno dei best seller del cantiere, e il Prestige 420S, il modello d'ingresso alla gamma caratterizzato da un look sportivo e benvenuto sul mercato.
Prestige X70 - una vera rivoluzione in termini di spazio utile a bordo
Da anni il mercato dei multiscafi si sta sviluppando, in particolare grazie alla superficie utile fornita da questo tipo di imbarcazione. La Prestige X70 risponde a questa tendenza per offrire un volume più utile, in dimensioni contenute.
Eliminando le passerelle, per ottimizzare l'intera larghezza del fly, così come il pozzetto e il salone, la Prestige X70 rompe i codici del mercato, con volumi immensi, spazi aperti e molta luce.
Prestige 690, un modello di ammiraglia di Prestige Yachts
Il modello di punta di questa stagione, la nuova Prestige 690 fa parte della gamma F-Line. Questo nuovo yacht riflette il DNA del marchio e incorpora tutti gli ultimi sviluppi.
Spazioso, luminoso, tutto è progettato per vivere il più vicino possibile al mare.
Avvalendosi della riconosciuta competenza di Garroni Design, offre un enorme flybridge e, come l'X70, finiture ineguagliabili.
Sarà in mostra al Boot Düsseldorf nel gennaio 2021, poi al Boatshow di Miami nel febbraio 2021.
Prestige 690S - lo Sport Yacht by Prestige
La Prestige 690S è un vero e proprio punto di forza della gamma, offrendo un'esperienza sportiva ma chic. Lo scafo è potente, la gestione del mare è efficiente e affidabile.
Su questo motoryacht sportivo dalle linee eleganti, il cantiere ha lavorato per coniugare prestazioni e reattività di guida: insomma, le sensazioni del pilotaggio.
Lo scafo, largo e slanciato, beneficia di immense vetrate. Il tettuccio apribile elettrico e il pozzetto di poppa, che si apre interamente sullo spazio interno, creano una firma estetica ed elegante. La luce inonda gli interni grazie alle ampie vetrate abbinate all'apertura del tetto.
Prestige 420S - ideale per entrare a far parte della famiglia Prestige
Questa nuova Prestige 420S con il suo look distintivo e sportivo beneficia del layout della Prestige 420 e delle ultime innovazioni del cantiere francese.
All'interno, il suo layout ottimizzato e il design elegante beneficiano di una luminosità eccezionale grazie al tettuccio apribile elettrico. Gli ampi volumi e gli spazi pianeggianti rendono la PRESTIGE 420S un modello ingegnoso e piacevole.
La grande cabina armatoriale, situata al centro della barca, offre servizi di qualità: un grande letto matrimoniale centrale e un bagno privato.
All'esterno, il taglio sportivo si fonde perfettamente con un'atmosfera raffinata e rilassata, frutto del DNA Prestige. Questo nuovo modello unisce il lusso a un layout funzionale, un'impresa per un modello 42'.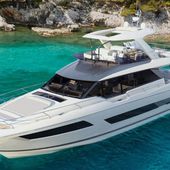 Prestige-Yachts voller Neuheiten im Jahr 2020 - Yachting Art Magazine
Die Werft Prestige Yachts, weltweit führend auf dem Markt für Flybridge-Yachten von 40 bis 60 Fuß, bringt in diesem Jahr nicht weniger als 4 neue Modelle auf den Markt, die sich über die gesamt...
http://www.yachtingart.com/2020/09/prestige-yachts-voller-neuheiten-im-jahr-2020.html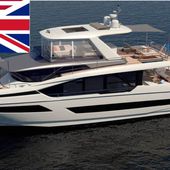 Prestige Yachts full of novelties in 2020 - Yachting Art Magazine
The Prestige Yachts shipyard, world leader in the market for flybridge yachts, from 40 to 60 feet, is launching no less than 4 new models this year, spread over the entire range of the shipyard ...
http://www.yachtingart.com/2020/09/prestige-yachts-full-of-novelties-in-2020.html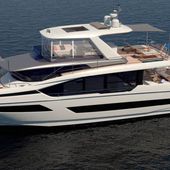 Festival de nouveautés 2020 pour Prestige Yachts - ActuNautique.com
Le chantier Prestige Yachts, leader mondial du marché des yachts à flybridge, de 40 à 60 pieds, lance pas moins de 4 nouveautés cette année, qui s'échelonnent sur toute la gamme du chantier. ...
http://www.actunautique.com/2020/09/festival-de-nouveautes-2020-pour-prestige-yachts.html