After the Bali 4.3 MY, that was launched in April, on the occasion of the International Multihull Boatshow (La Grande Motte), the new Bali Catspace Motoryacht is the second power catamaran of the French shipyard. The Catspace Motoryacht is a unique offer on the 40' power catamaran market, with an exceptional living space, especially with two very large front cabins!
The multihull market is clearly showing exceptional momentum, and the French Catana Group, the world's number 4 shipyard, intends to pursue its ambitious development strategy.
A few days ago, Yachting Art Magazine announced the launch of the Bali Catspace, a 40-foot catamaran with two exceptional front cabins, characterized by a transverse bed facing the sea, and an extra bed!!
This boat, launched on the next Boot 2020 Düsseldorf, and whose first models will be delivered in February-March next year, surprised the market, all the observers thinking that Bali was working on a new 45 feet model...
Continue on its momentum, Catana Group now announces the launch of the power version of its Catspace model, the Bali Catspace Motoryacht !!
Designed by Olivier Poncin (global concept) and Lasta Design (interior), this new model is meant to be a marine unit, with long range capacities and unique habitability and services, especially with its total deck covergage: 100% of the hull lenght.
Motorized with 2x150 to 2x250hp Yanmar engines with V-Drive transmissions, the Bali Catspace Motoryacht offers a very long range of navigation, with up to 1400 l of fuel and 700 liters of water, which is unique for a 40 ft, with a top speed that should exceed 20 knots, for a cruise speed of 15 knots.
On board the Bali Catspace Motoryacht, owners will benefit from a habitability worthy of a classic 45-50 feet, between the front cockpit, the rear cockpit opening or closing to the sea through a swing door, a real flybridge, and 3 to 4 cabins including the famous exceptional front cabins, brand name of the Bali Catspace!
The fitted galley in the back of the cockpit-saloon, a layout specific to traditional yachts.
In 3 cabins, the owner has a suite offering a sofa, a desk, a real dressing room and a large attached bathroom.
TECHNICAL DATA BALI CATSPACE MOTORYACHT
Designer: Olivier Poncin
Manufacturer: Catana Group
Architect: Lasta Design Studio
Interior architect: Lasta Design Studio
Overall length 12,86 m
Maximum beam 6,59 m
Draft, boards up 0,89 m
Light displacement 10,7 T
Displacement at maximum load 15,1 T
Engines Yanmar 2 X 150 hp up to 2 X 250 hp
Fuel Up to 1400 L*
Fresh water Up to 700 L*
Refrigerator + Freezer 265 L*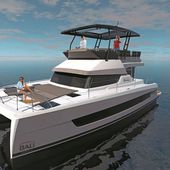 Bali Catamarans startet Catspace Motoryacht, ein 40-Fuß-langer Motor-Katamaran mit großen forderen Kabinen - Yachting Art Magazine
Nach der Bali 4.3 MY, die im April anlässlich der Internationalen Multihull-Bootsausstellung (La Grande Motte) gestartet wurde, ist die neue Bali Catspace Motoryacht der zweite Motor-Katamaran der...
http://www.yachtingart.com/2019/08/bali-catamarans-startet-catspace-motoryacht-ein-40-fuss-langer-motor-katamaran-mit-grossen-forderen-kabinen.html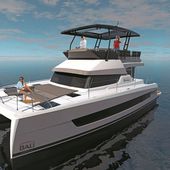 Scoop - Bali lance le Catspace Motoryacht, un catamaran à moteur de 40 pieds avec de grandes cabines avant - ActuNautique.com
Avec le Catspace Motoryacht, Bali Catamarans enrichit sa gamme d'un second motoryacht après le Bali 4.3 MY. Sur le marché, le Catspace Motoryacht est une offre unique dans la taille des 40 pieds ...
http://www.actunautique.com/2019/07/scoop-bali-lance-le-catspace-motoryacht-un-catamaran-a-moteur-de-40-pieds-avec-de-grandes-cabines-avant.html