Die Medline 9 ist die große Neuheit von Zodiac Nautic, dem französischen Spezialisten für halbstarre Boote in diesem Jahr. ActuNautique lädt Sie ein, die allerersten Fotos davon zu entdecken, vom allerersten Modell, das von einer Privatperson erworben wurde, der wir herzlich danken möchten!
Das neue Flaggschiff der Zodiac-Baureihe, das Zodiac Medline 9, greift den sehr erfolgreichen Rumpf seines Vorgängers auf, entscheidet sich jedoch für einen brandneuen Decksplan und eine Konsole mit einem sehr italienischen Design, das auf dem Medline 7.5 entdeckt wurde, jedoch in XL-Größe, die die Unterbringung von Bordtoiletten ermöglicht.
Das Zodiac Medline 9 ist ein Boot für Freizeitaktivitäten mit der Familie, mit zwei Decksalons vorne und achtern, die sich durch großen Komfort und ein hohes Sicherheitsniveau auszeichnen, insbesondere dank der hohen Rückenlehnen: ein echtes Plus im Gebrauch.
Angetrieben von zwei Evinrude e-Tech G2, das Zodiac Medline 9, hakt offiziell die 55 Knoten (58 getestet mit dem Eigner), für eine Geschwindigkeit von Null bis 30 Knoten in 6 Sekunden...
Bereit zum Start ?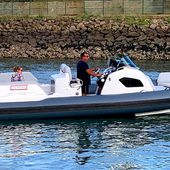 Scoop - premières photos du nouveau Zodiac Medline 9 - ActuNautique.com
Le Medline 9 est la grande nouveauté de Zodiac Nautic, le spécialiste français des bateaux semi-rigides cette année. ActuNautique vous propose d'en découvrir les toutes premières photos, du t...
http://www.actunautique.com/2020/08/scoop-premieres-photos-du-nouveau-zodiac-medline-9.html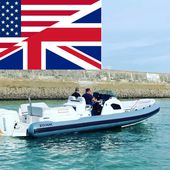 Scoop - first pictures of the new Zodiac Medline 9 - Yachting Art Magazine
The Medline 9 is the great novelty of Zodiac Nautic, the French specialist in semi-rigid boats this year. ActuNautique invites you to discover the very first photos of it, of the very first model ...
http://www.yachtingart.com/2020/08/scoop-first-pictures-of-the-new-zodiac-medline-9.html